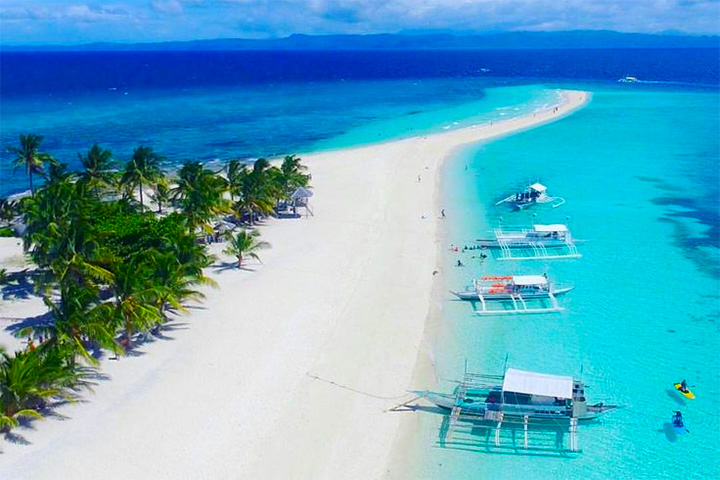 Aside from the marvelous and majestic islands you can see in Cebu City, there's also a popular island just in Visayas region also. It has been gaining a lot of popularity from both locals and foreigns due to its majestic sand bar and amazing view in every angle, especially the view from the sky is my favorite since looking from the sky would make you understand how it is named Kalanggaman island at all, since langgam is bird in english.
The island is considered a tourism jewel in Eastern Visayas. This previously unknown spot located in Palompon, Leyte became popular after photos of its long sandbar went viral in social media. Aside from its picturesque sandbar, Kalanggaman also offers white sands, dive spots and clear turquoise waters.
All Kalanggaman island tours, whether organized group tours or DIY style, are book through Palompon Eco-Tourism Office. Since the tourism office controls the number of groups who can visit Kalanggaman in a day, it is recommended to book your tour in advance. And for you to have a smooth and hassle-free tour, you can book for a Kalanggaman island tour with the help of a tour operator or tour agency. Cebu Tours will absolutely help you book for a kalanggaman tour package and you don't have to worry about anything since they are a certified and a proven reliable local tour agency.
Kalanggaman island is a small but stunning paradise-like island in Palompon, Leyte. The island makes you feel like you are on an exclusive island since only 500 tourists are allowed to enter the island each day. A lot of tourists both local and foreigner alike are saying that Kalanggaman island is the second Boracay of Philippines. Kalanggaman island day tour is very limited since there's a limit of people allowed to enter. Kalanggaman is the perfect place for those who want to recharge mental pressures and emotional stresses. You can pick your own spot and savor some alone time to listen to the sound of the wind against the leaves of trees while watching the dance of the graceful waves. It will definitely help calm the nerves.
The island is flat and surrounded by white sand with some rocky part. The eastern and western tips are sandbars that blend well with the color of the water. Dwarf coconut trees are scattered in the center, while rich and colorful marine life is resting underneath, unexploited. There's no resort or hotel in the area, which is a good thing to most people since less buildings and establishments present is one way to preserve the beauty of the island and other things, but campers are welcome in the island.